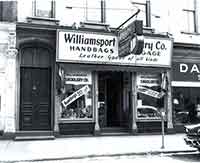 1897
Willard's Saddlery, Inc. is a family owned and operated retail establishment. We have been in business since 1897 and are located in Williamsport, PA. Willard's Saddlery offers a large selection of luggage, handbags, wallets, briefcases, and leather coats. We also carry clocks, picture frames, candles, and jewelry boxes. Willard's has Vera Badely, Brighton, Crabtree & Evelynn , Flax, C.C. Filson, and Pendleton. We offer free gift wrapping and monogramming. Willard's Saddlery offers quality merchandise, an excellent selection, and the very best customer service. When quality counts, count on Willard's.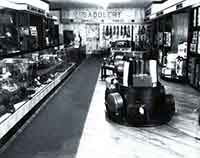 1968
Over the years, to keep up with the changing times and decrease in horse ownership, the business's emphasis changed from saddle goods to luggage and other types of leather items. In 1968, the business came under new ownership. Five years later, the new owners felt a second location in the suburbs of Loyalsock Township and a new name were the direction the business should be taking.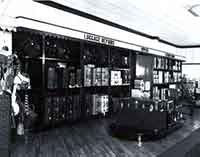 1971
In 1971, Willard's Saddlery, Inc. began construction at 825 Westminister Drive, Williamsport. A large two-story building was built to accommodate the growing business, but just as construction was coming to an end, and Willard's was getting prepared for their grand opening, Hurricane Agnes struck the area in June of 1972. Williamsport and the surrounding areas were inundated with flood waters. The new business location also suffered severe flood damage, with over 9 feet of water filling the building. After the flood waters receded, the owners wondered if they would ever be able to clean up from the flood and open their new store.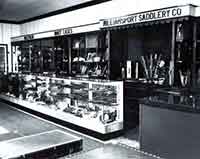 1972-1975
After months of hard work, the owners were finally able to open the new location on November 7, 1972. Business flourished at this new location and at the end of 1973, the downtown location was closed. However, in October of 1975, another flood hit the area. Hurricane Eloise again caused flooding in the area and Willard's had 3 feet of water in its building. The owner's again cleaned up and were soon back in business. In the 1980's a dike was built in Williamsport to protect the area from any future floods.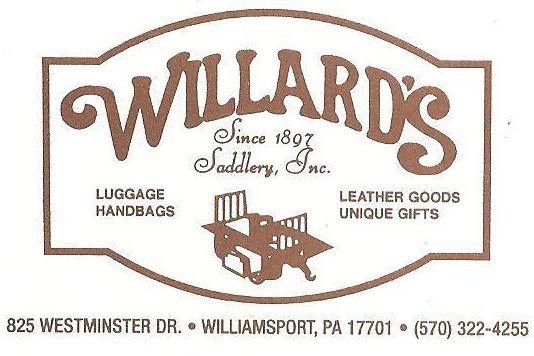 1997
In 1997, Willard's Saddlery Inc celebrated 100 years of continuous operation. Since their anniversary, Willard's has continued to expand and many new companies and products have been added to their already expansive inventory. Some of the new companies are C.C. Filson, Flax clothing, Pendleton, Vera Bradley Designs, Crabtree & Evelyn, and Brighton. Wilard's has been a unique shopping experience for over 100 years and will continue to provide high quality products and excellent customer service and satisfaction for years to come.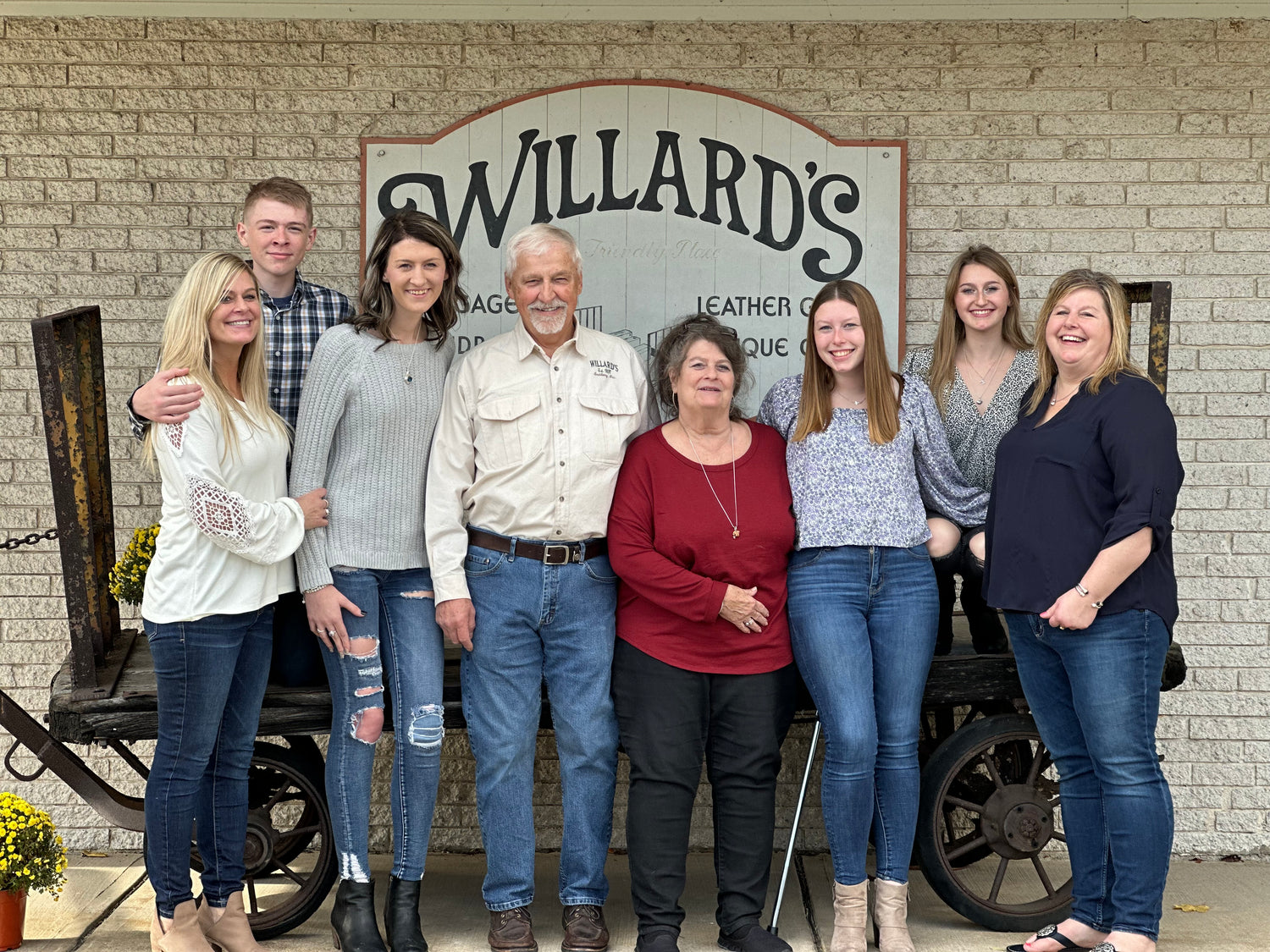 Today
A business that started small has continued to grow into a booming 9,000 square foot operation. Despite this growth, Willard's has remained a family owned and operated business with the greatest emphasis on carrying high quality products and providing the very best customer service. Willard's Saddlery currently boasts the largest selection of leather handbags, leather coats, hats, gloves, and small leather goods in their area. The store also carries a wide variety including picture frames, clocks, barometers, picnic baskets, globes, jewelry, and jewelry boxes. There is an amazing selection of desk accessories, pens, agendas, portfolios and business cases, as well as luggage and travel accessories.
Directions to our store!
From Interstate 180 West Take Exit 23 Drive approximately 1 mile, Sheetz will be on right Turn Right onto Westminster DriveDestination will be on left after the Comfort Inn and before Pigs Ear Pub, across from Any Event.
From Interstate 180 East Take Exit 25 Merge onto Northway RoadAt 2nd Red Light, Turn Right onto 3rd Street Drive approximately 3/4 mileTurn Left onto Westminster Drive Destination will be on left after the Comfort Inn, across from Any Event.